Satyam Shivam Sundaram Meditation School offers certified 100 Hours Meditation Teacher Training certification courses, Ecstatic Life Happiness Meditation Teacher Training, Yoga Meditation Chakra Healing Therapy & Tibetan Singing Bowls Sound Healing Retreats In Ubud Bali – Costa Rica – Koh Phangan Thailand – Goa Rishikesh, India
The modern world needs more meditation teachers, healers and seekers of life who can spread peace, celebration and love on this earth.
Do you believe that you have a purpose in life to guide people on their spiritual journey and help them heal and live a happy life in harmony with the world?
Would you like to become a Certified Meditation Teacher – Sound Healer Or Chakra Therapy Healer?
Would you like to become a part of one of the most respected, Loving, Caring and sharing careers which serves humanity?
Help people transform their lives through the practice of meditation?
Would you like to earn a living through teaching meditation while giving the gift of improved health, better relationships, inner peace and fulfilment in life?
Come join us to become an inspiring, trusted and effective teacher or mentor trained to teach scientifically proven, time-tested meditation techniques for modern people.
Why Choose Singing Bowls Training With
Satyam Shivam Sundaram & Samaveda International Sound Healing Academy

Only School In Asia which has Certified more than 1000 Sound Healers From 100+ Countries.
80% Students Passed from Our School Start to Offer Sound Healing Workshops from First Month Itself.
Our Certified Sound healing Masters Offer – Samaveda Sound healing Academy Certified Sound Healing Training In 10 Different Countries.
Our Certified Sound healing Masters Offer Sound-Bath Sessions in 100+ Countries.
Most Diversified Singing Bowls Trainings – Only School in Asia which Offer Singing Bowls Trainings with Many different Types of Singing Bowls with more than 250 Singing Bowls for Each Training.
One of the rare Sound Healing School which offer Exclusive Singing bowls Set special designed for Yoga Meditation Studio with Large Groups, 4-5 Star Hotels Resorts & Wellness Spa with Therapeutic Sound Healing Treatment Special Sets.
Rare School Which Cover Steps to launched you as Successful Sound Healer & Offers Tips how to Collaborate with Institutions & Other Related Wellness Therapist for Sound healing Sessions.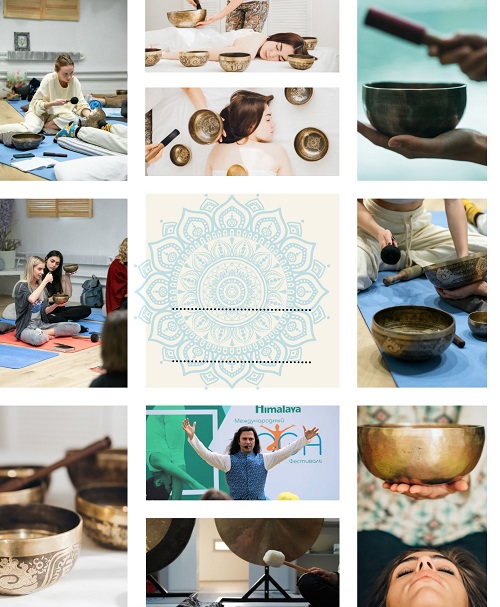 What is the Career Scope Of Being Singing Bowls Sound Healer? –
What are the Latest Sound Healing Trends 2023? – How Can i make a successful Career as a Sound Healer?
Today Tibetan singing bowls & Gong Sound bath sessions & Group Sound Healing is shifting from Metaphysical to Mainstream. There are many trends which are gaining popularity all around the world: here are some of them:
Sound Healing Has Become More Main-Stream than Ever: Sound Vibrational Healing or Sound Wellness is emerging as the latest mainstream trend in recent years. For instance, it is used in many traditional healthcare institutes, dentistry, schools, elderly care centres, fitness retreats, and corporate wellness programs, so There is vast requirement of sound healers around the world and many sound healers start to work with multiple institutions by visiting as exclusive Guest Sound healer Master.
Singing Bowls Sound-bath In Wellness Resorts & Hotels: Now days many 3-4-5 Star Hotel Resorts chains & Health Wellness Spa's, Yoga Meditation Studios Start to Add exclusive Sound Healing Room & Offer weekly One-to-One Sound healing Sessions Treatment and Group sound-bath session. These institutions mainly prefer to hire to Sound healers on Monthly Salaries.
Singing Bowls Sound-bath In Yoga Teacher Training Courses: Singing Bowls Group Sound-bath Session started to part regular Yoga RYS 200 Hours Yoga Teacher Training Courses, More & More Yoga Schools start to Hire Exclusive Sound healers as part of school to offer Sound-bath session in Training & Yoga Meditation Retreats, Many Sound healer Work with Yoga Meditation School on Collaboration by % of Fee Sharing by per student to Offer exclusive Group Sound-bath session to School Students as well as One-One to Sound-bath Treatments.
Singing Bowls Sound-bath In Yin Yoga Classes & Retreats: Singing Bowls Group Sound-bath Session started to part regular Yoga RYS 200 Hours Yoga Teacher Training Courses, More & More Yoga Schools start to Hire Exclusive Sound healers as part of school to offer Sound-bath session in Training & Yoga Meditation Retreats.
Singing Bowls Sound-bath session In Shamanic Retreats & Cacao Ceremony: Shamanic Retreats, Cacao Ceremony & Kirtan Sound healing Circles Masters Start to implement Singing Bowls Sound-bath Session by Collaborating with Sound healers, is most seen in international tourist destinations like Bali (Indonesia), Koh Phangan (Thailand), Portugal, Costa Rica and Goa (India).
Singing Bowls Sound-bath session In Ecstatic Dance Events & Live Music Concerts: Nowadays Many musicians & Ecstatic Dance DJ start to collaborate with Sound Healers to Combine Ecstatic Dance Events & Live Music Concerts Together.
Singing Bowls Sound-bath Session for Corporate Wellness: Businesses and organizations could have adopted singing bowl sound-bath as part of their employee wellness programs, recognizing the benefits of sound healing for stress reduction and improved focus.
Social Group Sound-bath: Nowadays Social sound-bath events conducted in parks, retreats, or community spaces are gaining popularity, emphasizing the collective healing power of sound and the sense of community.
World Travel as Sound Healer Moving there Practice Globally – There are so many Hot Trending Sound healing Destinations in world where more & more people Sound healing Workshops & Training Start to happen as its attracting Global Professional Sound healer to Host Events, some of these Host Destinations are, Bali Indonesia, Costa Rica, Tulam Mexico, Koh Phangan Thailand, Portugal, Tuscany, Italy, New York USA, Rishikesh Goa India and many more.
IMPORTANCE OF MASTER LEVEL TIBETAN SINGING BOWL TEACHERS TEACHER TRAINING:
A premier opportunity to be part of an emerging and popular trend in the world. Shiva Girish, Founder of Satyam Shivam Sundaram Meditation & Sound Healing School, believes the world needs more Sound Healers. Tibetan Sound Bowl Therapy Healing is growing rapidly in Asia, Europe, UK and in the USA. There is an increasing demand from Sound Healers in the world and a lack of certified Sound Healing Therapists. This program is aimed at allowing advanced and experienced Sound Healers to certify others as Sound Bowl Therapists to meet the level of demand.
The increasing interest for Sound Healers comes from the rising consumer interest and awareness of alternative medicine and wellness programs. Sound Healing incorporates a wider range of a target market, even more so than yoga, as virtually anyone from any age and physical ability can participate. In recent years, many scientific studies have been released that confirm singing bowls as an effective tool and alternative wellness technique that contributes to increased overall well-being, reduced stress and helps to calm the mind. Recently, sound bath sessions have become popular for relaxation and de-stressing with more yoga and/or meditation teachers, healers & medical therapist's starting to combine singing bowls into their classes, workshops and retreats to diversify their healing offerings, grow and scale their businesses and broaden their target market.
Past Training Students Testimonial
Testimonial's
I took three courses in a row and I totally loved it, really deep understanding and profound teachings from Shiva and his team. 100% recommended!
Really enjoyed the Teacher"s training' course in Goa. We were a small group of 7 students and got a lot of attention from our teachers. Breakfast and lunch were served during the course which were light Iand tasty vegetarian food. We also got supporting materials to help us conduct our own workshops.
This guys literally changed my life. I've learned so much about singing bowls, how to work with them and how powerful meditation could be if you use them properly. Shiva and Vladimir greatest teachers. If u have a chance to learn from them, you must go!!! Love.
Such a wonderful experience! Shiva is an amazing teacher and Goa is beautiful. You will meet people in this program from all over the world and find so much self growth. The experience is priceless. Highly recommend!

The Vedic sounds and Tibetan healing bowls training was an incredible experience. We had the opportunity to learn from various brilliant teachers about the history, philosophy, meaning and power of various mantras. We were given practical guidance on how to create various workshops with the elements we studied in this training. The Tibetan healings bowls was all hands on as we practiced the various techniques we were taught on each other. Shiva understands how to deliver content to a western audience while not compromising the teachings- truly a teacher of teachers. If your interested in sound healing and mantra TAKE THESE TRAININGS. You will be very happy you did.

I highly recommend Satyam Shiva Sundam Meditation School! Had the honor and pleasure to receive my training in nada yoga, sound healing and meditation teacher. All the teachers that where part of the programs are highly qualified and very humane, the techniques and knowledge shared prepared me and gave me the confidence to start my own meditation studio. Also my fellow classmates where amazing people from all over the globe which made the experience even more mesmerizing!
Practice Session During Tibetan Singing bowls Sound Healing Teacher Training
Our Location in Heart of Arambol Beach, North Goa India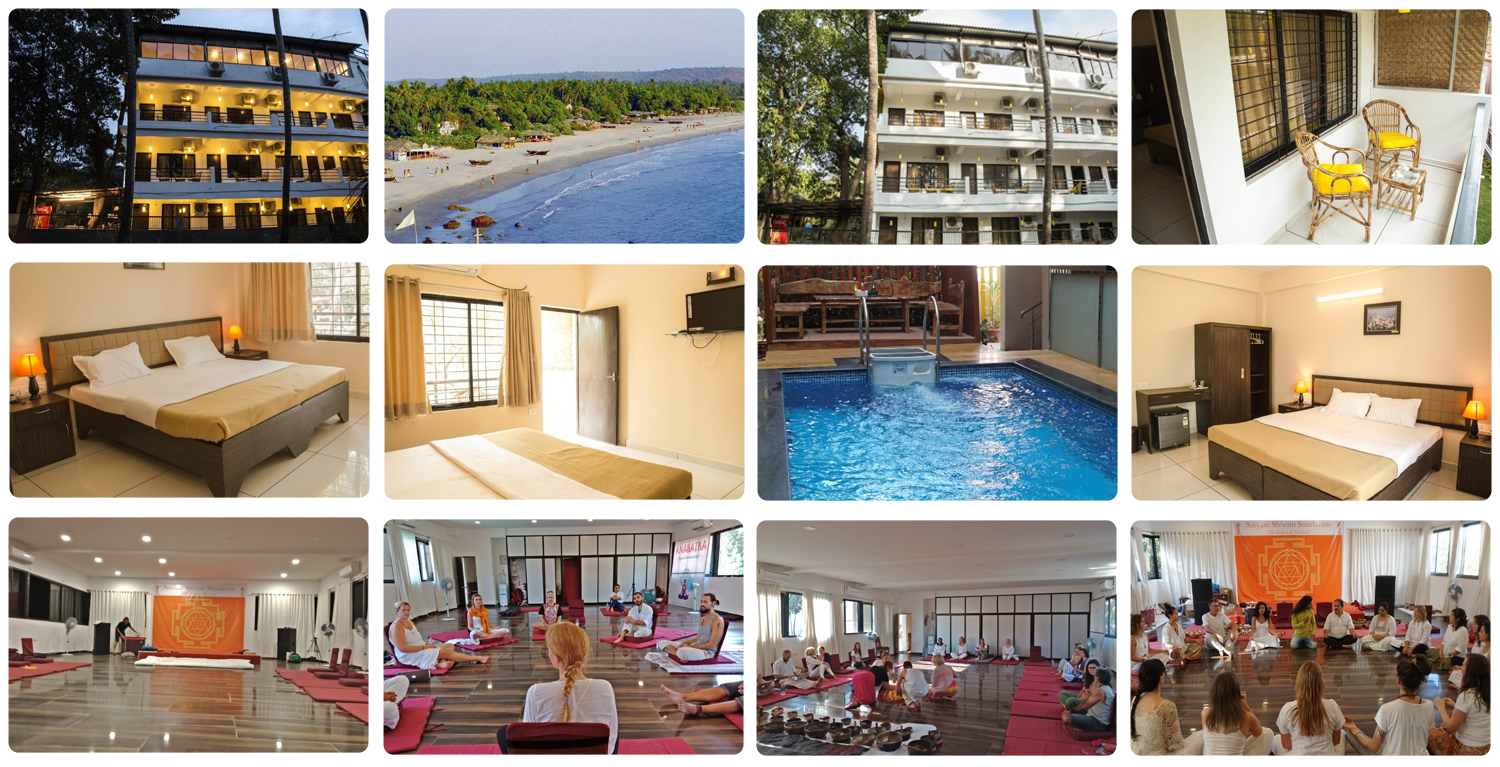 Samaveda Sound Healing Academy & Satyam Shivam Sundaram Meditation Sound healing School Training Hall & Accommodation At
Hotel Arambol Arbour, Arambol Beach, North Goa address:
H No. 159, Girkar Wada, Arambol, Pernem Arambol,
Pernem, Goa, Arambol Beach, 403524