Satyam Shivam Sundaram Meditation School Offer
5 Days Chakra Meditation Therapy Retreat In Rishikesh, India
This 5 Days Chakra Meditation Retreats Based on Deep Transformative Proven Tools Dynamic Active Meditation, Sacred Sound Healing, Kundlini Tantra Yoga & Chakra Healing Therapy Meditation Workshop
Tuesday 14th November 2017 Till Saturday 18th November 2017. (Rishikesh)

Tuesday 20th March Till Saturday 24st March 2018.(Rishikesh)

Tuesday 10th April Till Saturday 14th April 2018.(Rishikesh)

Shiva Girish
A Modern New Age Tantra Yoga & Meditation Master


In this 5 Days Meditation Therapy Retreat Shiva Girish offers mainly Tantra Chakra meditation techniques based on Vigyan Bhairav Tantra, Advaita Vedanta, Dance Movement Therapy, Breathwork And Active Osho Meditation Techniques. The base of 5 Days Meditation Therapy Retreat revolves around opening and balancing seven chakras, getting clarity about what we want in life, releasing unwanted repressed emotions, opening blocked energy pathways in body, creating Will Power and taking ownership back as Master from body & mind.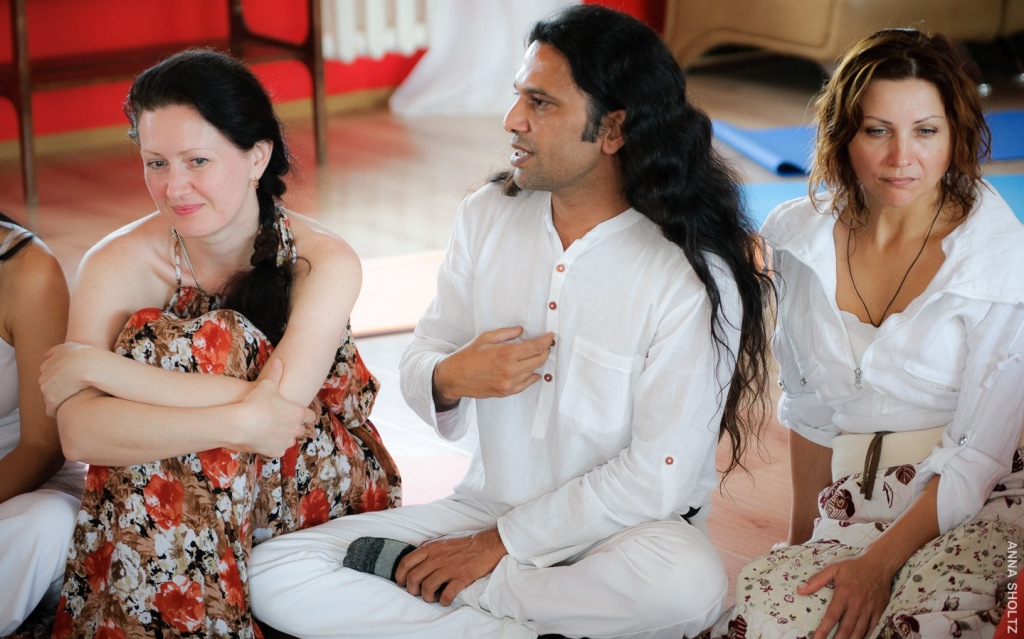 Why should you join this 5 Days Trans-formative Chakra Healing Meditation Therapy Retreat In Rishikesh?

Chakra energy healing balances energy level and makes you healthy in body, mind and spirit level.

Because you are looking forward to healing and transforming your life.

You have a serious interest in practicing chakra healing, and you Feel ready towards sharing your experience with others.

You are prepared to commit wholeheartedly to the practice chakra energy healing.

You are ready for the challenging experience and are determined to dedicate 100% of your efforts to personal growth and helping others.

You are ready to learn from experienced chakra therapy masters and fellow students as well as share your wisdom and insights others.

You are willing to work hard to became Chakra Energy Healer with courage, honesty, trust, and integrity.

You are entirely interested in taking control over your body, mind, emotions and life.

Shiva Girish Meditation Master Giving Chakra Therapy Session About Adviata Vedanda Sessions During Intensive To
Bring Clarity In Life:
Many people In World keep asking themselves questions about life and they want to know the the answers. Below are a few of them that will be covered during Adviata Vedanda Sessions in.5 Days Meditation Therapy Retreat.
How To Do You Love & Except Your Self? If Not How To Love & Except Your Self?
Do You Want To Be Loved & Have Family? It Yes, What Stops You?
What Is Your Passion & What Do You Want in Life & How To Find It?
Get Clarity About What Stops You From Fulfilling Your Desires & Wishes.
How To Love & Except Your Body & Mind The Way You Are?

Short List Healing Benefits People Experience During Intensive:
Feeling a strong bond with the family as well as with friends that you consider to be your family.

An arising sense of deep connection when you become friendly to any situation with hopeful and confident attitude towards the future.

Becoming imaginative, intuitive and attuned to your own feelings and discovering a great sense of humor.

Help in totally accepting and loving yourself way you are.

Tantra practices during the Intensive help to achieve the highest states of consciousness for highest spiritual experiences.

Becoming more open to pleasure, sensation and creativity in Life.

Opening the Heart and connecting with others by compassionate attitude, affection and unconditional love.

Discovering a harmonious resonance with your own inner masculine / inner feminine.

Becoming more self-aware and understanding true reasons stopping you from getting what you want.

Understanding the importance of relationship with oneself, releasing limitations of self-esteem and self-image.

Becoming free from shame and guilt.

5 Days Chakra Meditation Therapy Retreat In Rishikesh, India

Tuesday 14th November 2017 Till Saturday 18th November 2017. (Rishikesh)

Tuesday 20th March Till Saturday 24st March 2018.(Rishikesh)

Tuesday 10th April Till Saturday 14th April 2018.(Rishikesh)

Location: Satyam Shivam Sundaram Meditation Schools, Behind Parmarth Niketan, Ram Jhula, Rishikesh, Uttarakhand, India
Regular Course Price: €350 Euro – If Booked 2 months in advance 50€ Euro Discount.
Special Discount Available For Couples.
Write us mail to check availability for upcoming training – Check For Availability

More Information On Chakra Healing Therapy Teacher Training
Satyam Shivam Sundram Medtation Schools Offers Chakra Healing Therapy Teacher Training A 5 Days 40 Hours Certified Chakra Healing Therapy Meditation Facilitator Training Course In Rishikesh And Arambol Beach, North Goa, India
Save
Save
Save
Save
Save
Save
Save
Save
Save