Bliss Happiness Life Meditation Training Retreat Dharamshala With – Shiva Girish Modern Meditation Master
Location: Upper Bhagsunag mcleodganj, Dharamshala
Date: Tuesday 7th May To Saturday 11th May 2019.
A Lifestyle Design Unconventional Training Based on Techniques Of Ecstatic Bliss Happiness & Ecstasy in The Spirit of the Himalayan Mountains, Mcleodganj Dharamshala.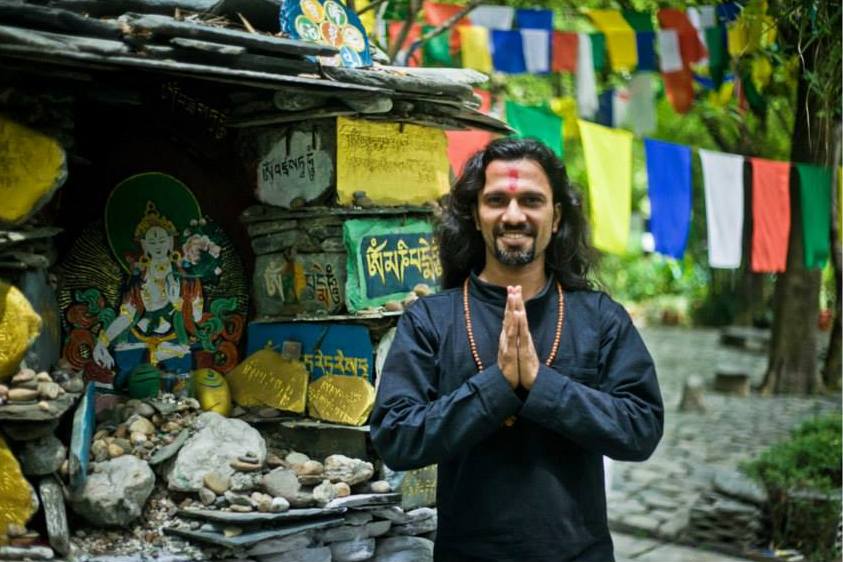 Training Objectives: Learn how to combine the ancient and modern by bridging the divide between the forgotten sacred tools and techniques of Tantra meditation, Vedas and Advaita Vedanta with with modern world's last 100 years scientifically proven research based ways happiness.
Learn how to apply ancient Vedic heart chakra therapy, Tantra Meditation and practical techniques to awaken self-love, compassion, gratitude and forgiveness towards yourself and others.
Learn how to design and conduct 1-2 day workshops of Bliss Happiness and Ecstatic Life, based on scientifically proven techniques, and combine them with your own therapy/specialty.
Learn how to design unconventional life style, location-based, celebrative retreats.
Who can Join This Training?
Yoga and meditation teachers, various alternative healers, life coach, therapists, medical doctors, as well as social workers, creative artists, dancers and musicians.
For anyone who is committed, motivated and enthusiastic in exploring and living a fuller, more generous, pleasant/joyful and ecstatic life through the path of self-awareness, personal growth, and meditation.
You are interested in taking control of your body, mind, heart and life
and consider empowering other people through sharing your experience, love, and knowledge as your future career.
A Rare Unique Unconventional Training Experience
This retreat offers a unique training experience in its vibrant, beautiful locations embracing breathtaking mountain, rushing waterfalls and monasteries blessed with boundless spirituality and peace. The training sessions will be held close to waterfalls, near hot springs and on mountain peaks, as well as at the Dalai Lama and Karmapa Lama monasteries and Norbulingka Institute in Dharamshala, Himachal Pradesh.
Reasons Why This Bliss Happiness Life Training is
Created By Shiva Girish?
Since 2010 students from over 90 countries have come to Shiva Girish for his meditation workshops and meditation teacher training, chakra tantra therapy training, as well as techniques designed to unfold spiritual well-being by integrating body, mind, heart and soul.
The students included Yoga and meditation teachers, various healers and therapists, medical doctors, nurses and psychiatrists, as well as social workers, schoolteachers, artists, dancers and musicians.
In the process Shiva Girish realized those he taught needed more than basic traditional meditation and healing workshops. They required core tools in their workshops and seminars to give their own students a practical understanding of how to achieve true happiness, inner peace, gratitude and unconditional love, along with compassion and forgiveness for themselves and others.
It was essential for them to learn how to create and maintain sacred space, exercise group dynamics, impart body, mind and heart integration techniques, and, above all, ground the whole experience in the heart.
They needed to know how to share love for dance and ecstatic movement practices in order to awaken self-love, compassion, gratitude and forgiveness among their own students as well as their communities.
They also needed to know how to apply scientifically proven aspects of happiness that are linked to good health.
Some key aspects of Bliss Happiness Life Training Dharamshala
This is a unique, certificated training retreat centered on embracing and celebrating Life itself in such a way that you become one with the Existence.
The training, uniquely staged in a string of stunning locations, will focus on learning tools to realize inner joy, bliss, and happiness.
Forget the old concept of teaching your students in a boring classroom or an uninspiring hall. Our retreat is vibrant with beautiful locations embracing breathtaking mountain tops, rushing waterfalls and monasteries blessed with boundless spirituality and peace.
Can you imagine how inspiring and meaningful happiness training will be from the peaks of the Dhauladhar mountain range in Triund?
Indeed, the transforming impact of what you will learn will be no less a force of nature than the unstoppable power of the Bhagsu Waterfall, a stunning gift of nature framed by towering cliffs and sweeping forests near Dharamshala.
The rejuvenation you can achieve can only be measured by the meditative purity flowing from the Dalai Lama, Norbulingha and Karmapa monasteries, where some of your workshops will be held.
Various types of Heart-Opening meditation will be used, along with such techniques as Sacred Ecstatic Chakra Dance, Happiness Bliss and Laughter.
These elements will be seamlessly woven together to welcome you into a deep state of presence, awakening, and celebration. It is critical for you as a teacher to know how to unlock these experiences within yourself.
Successful students will leave with a certificate showing they have learnt how to create practical platforms for expansion, connection and Oneness through movement, music and community.
This retreat, offering hotel accommodation in a series of locations from Bhagsu Nag village to Dharamkot, will span seven days, with one day off for personal sightseeing. Breakfast, lunch and dinner is inclusive.
You will learn how to apply traditional Vedic methods that have changed countless lives over thousands of years, as well as how to share this knowledge with others.
We will explore the Science of Happiness and in doing so help you discover how to become content.

What you will learn/gain during this Bliss Happiness Life Training.
What is happiness? What is self-love? We will examine the things that truly make you happy and how you can find happiness through self-love.
Learn about science-backed processes and practices that boost the flow of happiness neurotransmitters in your brain.
A deep understanding of Self-Care, Relationships, Pursuits, and Perspectives.
Learn methods and techniques for expanding your experiences of love, joy and happiness.
Learn how to apply mindfulness meditation, compassion and self-confidence techniques that will bring more happiness into your daily life.
Learn the techniques and tools that will help you help others find their happiness.
How to lead meditation to awaken self-love, compassion, gratitude and forgiveness towards yourself and others.
How to hold sacred space – group dynamics, body, mind and heart integration techniques with grounding the experience into the heart.
Gain insight into how conscious dance meditation enhances transformational facilitation environments to lead students into deeper passive meditations.
How to boost your confidence and self-esteem and develop more meaningful relationships.
How to reduce anxiety and your blood pressure by cutting the body's production of the stress hormone, cortisol.
How to enhance your immune system, increase your feeling of wellbeing and get your body to create its own natural pain relief abilities.
How to use scientific parameters to evaluate happiness and success, identify distractions preventing you from achieving these, and apply in daily life the lessons you have learned.
How happiness can give you a better night's sleep.
How to help make the world a happier place through your own example.
Learn how our food and lifestyle choices affect our happiness and lead to unhelpful behavior in life.
Learn the importance of a relationship with oneself, releasing limitations of self-esteem and self-image.
Learn how to become free from shame and guilt.
Learn how to become more creative, intuitive and attuned to your own feelings, and discover a greater sense of humor.
Learn how to become more open to pleasure, sensation, and creativity in life.

Here are some of the locations where training sessions will be held.
Dalai Lama Temple, Mcleodganj Dharamshala.

This stunning monastery, nestled between beautiful hills and mountains is the home to HH Dalai Lama.
The atmosphere is holy, blissful and contemplative with scenic views.
Peace and happiness flow endlessly from the magical ambiance and mystical energy of this place.
Norbulingha Institute, Dharamshala
This Institute is the true reflection of Tibetan culture and history.
It has a Buddhist monastery and temple with peaceful and inspiring surroundings.
You can see talented artists working their magic sculpting, carving and painting.
It is essentially a community of artisans keeping Tibetan culture and heritage alive by providing fellowships in various handicrafts.
Karmapa Monastery, Dharamshala
It is the exile home of the 17th Karmapa, head of the main schools of Tibetan Buddhism.
If you are fortunate, your visit to this tranquil Tantric monastery temple – set against a backdrop of snowcapped mountains – may include a scheduled meeting with His Holiness which may well include his insights on happiness.
Bhagsu Nag Temple – Mcleodganj Dharamshala.
Bhagsu Nag, which is situated at the foot of the Bhagsu Waterfall, is a place of pilgrimage for Shiva devotees.
We will stop at this amazing temple to seek blessings of Lord Shiva before starting our 1km trek to Bhagsu waterfalls.
This enchanting attraction, with its stunning 400-metre cascade, is found at the top of magnificent, tree-covered cliffs.
It is one of Dharamshala's top tourist attractions and is reached through the site's famous temple.
Once there you can relax in one of the cafes while soaking up the magnificent views, visit the site's slate quarry or even bathe in an invigorating fresh water spring.
Naddi View Point – Mcleodganj Dharamshala.
Naddi is a village 2,000 meters above sea level in the Kangra valley.
It offers breathtaking views down to Dharamshala as well as the snow-covered peaks of the Dhauladhar mountains.
It is an ideal place from which to witness the most serene of sunsets.
Dharamkot Village – Mcleodganj Dharamshala.
Also known as yoga village, it provides an ideal starting point for our trek to the stunning Triund peak.
Dharamkot also has Tushita meditation centre which is an extremely peaceful place for ten day Vipassna retreat with an abundance of positive energy.
Tatwani hot spring
This hot sulphur spring is so remote it is not even on the tourist map.
Built around it is a temple dedicated to Lord Shiva.
The heated water, which boasts healing properties, feeds a tranquil pond offering the opportunity for a rejuvenating dip.

Bliss Happiness Life Training Retreat Mcleodganj, Dharamshala, India – With Shiva Girish

Date: Tuesday 7th May To Saturday 11th May 2019.
What's included In Training – Accommodation for 6 nights with Private Non A/C Room with Double Bed and attached bathroom with hot water Shower (Single Occupancy only)
Every day morning healthy breakfast & lunch Dinner – Manual For Training.
Location: Upper Bhagsunag mcleodganj, Dharamshala
Past Happiness Bliss Training & Retreats Picture Gallery
Blog Link for Last meditation teacher training Blog 1 – Meditation Teacher Training Blog 2
Watch Meditation Techniques Videos By Shiva Girish For Healers & Yoga Meditation Teachers.
Regular Residential Course Price For Double Occupancy In Deluxe Non A/C Room : €750 Euros – Next 3 Early Birds Discount 150€ Euros.
Regular Residential Course Price For Single Occupancy In Deluxe A/C Room : €850 Euros – Next 3 Early Birds Discount 125€ Euros.
Non-Residential Course Price: €600 Euros – Early Birds Discount 125€ Euros.
Booking Confirmation Fee 300 Euros – Rest payment On arrival – Payment Option By Paypal https://paypal.me/satyamshivamsundaram
if you have any questions feel free to message us on whatsapp +917888206883
Limited Seat Available – Write us email – satyamshivamsundaram2 @gmail.com (remove space) to check availability for upcoming training – Or Apply For Availability.